Asakusa has no JR station but Asakusabashi does. Ueno became terminal of JNR (former JR) because Asakusa people denied the black smoke of Steam-Locomotives when Japan National Railway decided their north-bound-route (for Tohoku region) in Meiji era.

Anyway, this ticket Hokkaido-East-Japan-Pass is similar to Seishun 18 Kippu but less area and more days are covered. For less yen (it is only JPY10,850) to enjoy riding for 7 consecutive days during the following period. Especially good worth visiting http://en.visit-eastern-hokkaido.jp/ .

From March 26th to April 22nd
From July 1st to September 30th
From December 10th to January 10th


You can ride unlimited local train (futsu) and rapid train (kaisoku) on the following lines for maximum 7 consecutive/straight days. Please note that if you started using this ticket on January 8th, you can only use it until January 10th inclusive (only valid for 3 days of 8th, 9th and 10th, but not for 11th, 12th, 13th, 14th , no refund is available). By the way, Higashi-Nihon is literally East-Japan.

JR Hokkaido : see map below (light green color, basically in the northern island)
Hokkaido Shinkansen : Tokkyu-ken is required additionally.
JR East : see map below (dark green color)
Aoimori Railway : http://aoimorirailway.com/rosen
Iwate Galaxy Railway : www.igr.jp/
Hokuhoku Hokuetsu Line : http://hokuhoku-line.jp/
Izu Kyuko Line : www.izukyu.jp/foreign_language/en/
Tokyo Monorail : www.tokyo-monorail.co.jp/english/
Sendai Airport Transit : www.senat.co.jp/en/top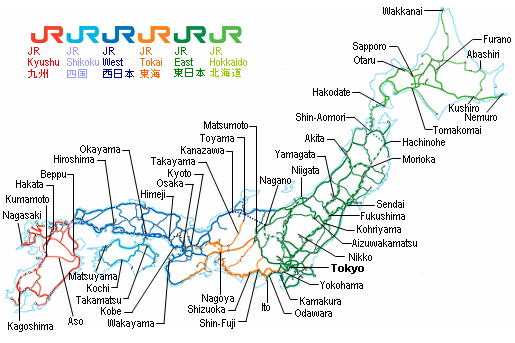 For example, it costs JPY1,840 round trip from Ueno to Kamakura by non-discount JR tickets, which is much more expensive compare to the one day equivalent of Hokkaido&HigashiNihon Pass (JPY10,290 devided by 7 would be JPY1,470).

Followings are just example of ONE WAY JR ticket price with paper ticket by local train (or by rapid train) from Ueno. Please be aware that ic card price for both SUICA and PASMO is bit less.

Nikko : JPY2,590 (please note that it would be JPY1,360 if you took Tobu private railway from Tobu Asakusa station)
Narita Airport : JPY1,320 (please note that it would be JPY1,030 on Keisei Main Line or JPY1,240 on Keisei Access Line to Keisei Ueno station)
Kawagoe : JPY760
Odawara (for Hakone) : JPY1,490
Otsuki (for Kawaguchiko, one of the Fuji Five Lakes) : JPY1,490
Ito (near Atami on Izu Peninsula) : JPY2,270
Yokohama : JPY550
Kamakura : JPY920
Shinjuku : JPY200
Shibuya : JPY200
Tokyo : JPY160
Akihabara : JPY140


For other destination you would like to reach by local/rapid train, please contact this or that for detailed calculation. If you decided NOT to use JR lines, here's the transfer planner for Tokyo, Kanagawa, Saitama and Chiba.